Composite Doors Henleaze
As a Henleaze resident looking to invest in the ultimate composite door on the market, you can come to Panoramic knowing we are an installer you can rely upon.
Why Choose Panoramic for Your Home Investment?
The composite door is the go-to door on the market today, thanks to its superior benefits in comparison to other options available. With that in mind, you want to make sure you make the right investment, and for the Henleaze area, that would be with Panoramic.
We are proud to be listed as 'Certified Installers' by Assure, which means we have been recognised for the level of service we provide to our customers as well as the eventual product we install. We pride ourselves in only working with a select number of suppliers, including Rationel and Smart aluminium. Our composite doors come exclusively from Endurance, for which we are named as Premium Installers.
At Panoramic we bring over 40 years of experience to our installation of composite doors to the Henleaze area, and our customers have never been shy in raving about the service and quality of door we have provided for them.
As a company, we are proud to be able to boast a handful of incredibly valuable accreditations from different testing bodies. This includes the Kitemark approved double glazing we use in a whole range of our products. We also acknowledge how vital security is a lot of our products have been vetted by the police and are therefore accredited by SBD (Secured by Design.)
What is an Endurance Composite Door from Panoramic?
Renovating your home can be a confusing period from start to finish, especially when choosing what products you want to be installed. In short, Endurance composite doors are the market-leading product when shopping for new doors. They feature unrivalled security features which comfortably out-perform the competition.
The door itself comes with an impressive timber core which means the structural integrity in the middle of the door is not easily compromised.
Also, the door features a combination of different materials including tightly-packed fibres and robust uPVC. These materials' respective weaknesses are counter-balanced by the others' strengths and as a result the door in near impenetrable. You and your family can, therefore, sleep easy in your Henleaze home.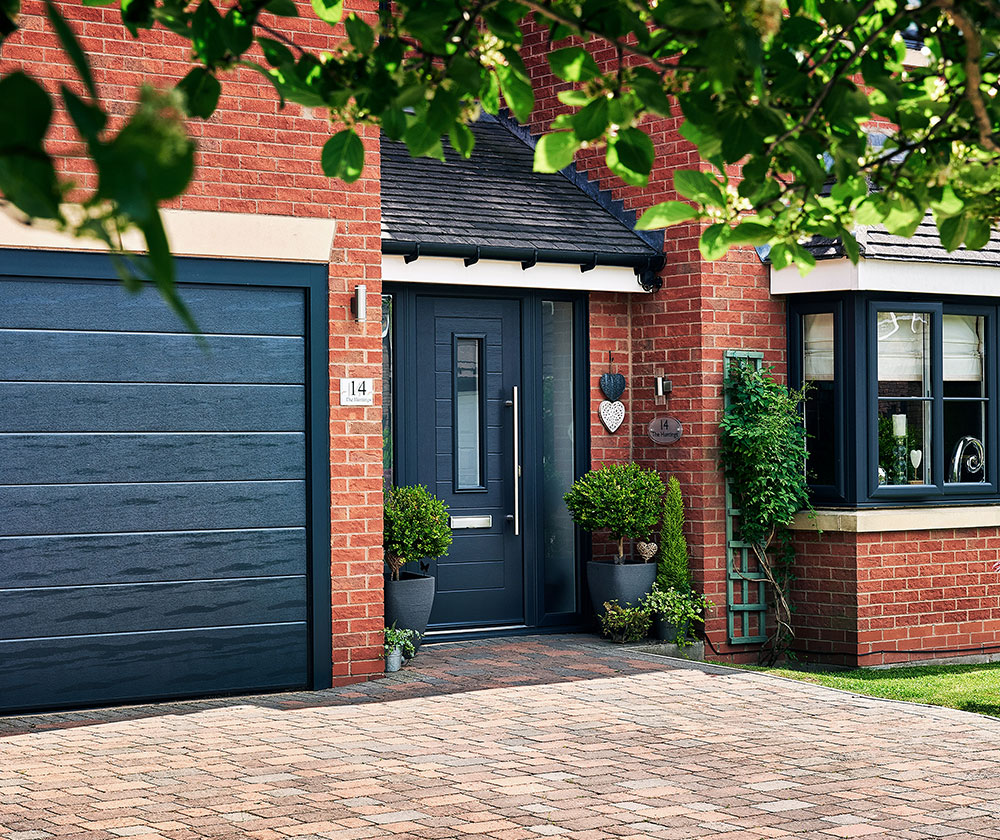 Benefits of a Panoramic Composite door for Your Henleaze Home
As an incredibly secure product, the composite doors available at Panoramic come with a host of perks and benefits.
Great Energy Efficiency
With the composite door being a reliable and robust product, it doesn't only offer great security, but also excellent energy efficiency. This means you'll keep the cold Henleaze winters out and won't lose any of your house's warmth either. As a result, you could save money on your energy bills in the long run.
Low Maintenance
The last thing you want after your product is installed is for it to require constant attention and aftercare. With our composite doors at Panoramic, you're getting a product which is built to last and will require little to no maintenance in the years that follow after its installed by us.
An Array of Colour Options
Our composite doors not only practical but come in a host of different colour schemes, ranging from more classical looks to contemporary variants as well. With a choice of dozens of colours available, you're bound to find something to suit your family home in the Henleaze area.
Visually Stunning
The design and configuration of our composite doors are bound to catch people's attention whether you choose a more vibrant or subtle colour for your Henleaze home. The door is the first thing people will see when visiting your house, so make sure you leave a lasting first impression.
High Quality Double Glazing
When choosing a door configuration which features a windowed area, you want to make sure you aren't compromising on any of the benefits the composite door itself provides. As a result, these models from us at Panoramic come with our accredited double glazing so that you can rest easy in your Henleaze home.
Decades of Installation Expertise
When investing in an Endurance composite door, you want to ensure that you're going to be dealing with professionals who make the installation process stress-free. At Panoramic we bring over 40 years of experience working with doors so you know you're dealing with a company you can rely on.
Composite Doors Prices Henleaze
If you want to work out how much one of our beautiful composite doors would cost you, you can use our online price generator to source a quote at your leisure. In addition, you can call us on 01179 560321 or book an appointment online to organise a visit at our showroom.