Why choose a Solidor composite door?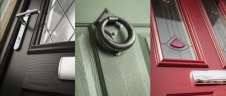 Twenty years ago, if you wanted a new front door, it is more than likely that it would have been a UPVC door, in a shade of white. These secure plastic doors were weather proof, offered some degree of customisation, and would last a long time.
Arriving on the scene more recently are composite doors. These are the next generation of residential doors. Rather than just being made of plastic, a composite door can be constructed of a mix of materials, designed to meet the strict criteria required of the modern front door far better than the single-ingredient UPVC door.
Taking composite front door design up a notch again is Solidor. Solidor know that your choice of front door is what gives your home character and style, balanced with security which meets British Standard PAS24 for both domestic and commercial properties.
Solidor Composite Door security
All back and front doors in the Solidor range meet the strict Secured By Design standard and comes with laminated glass and approved lock cylinders as standard, which is enough to deter even the most determined burglar.
You really can feel safe behind a Solidor composite door. At the core of each Solidor is timber, rather than the lightweight foam which many of our competitors use. Solidors also feature the award winning Avantis and Ultion lock systems, which exceed PAS24 requirements.
In fact, in test conditions, the test was stopped after five minutes of attack, because the Solidor composite door showed no sign of giving in. Featuring an award winning deadbolt and deadlock, this really is one of the most secure doors you can fit to your property.
The Solidor composite door is energy efficient too
While thermal performance is something you may not have previously considered, you can be sure that Solidor has thought of it for you. Everyone knows that doors and windows are the most likely culprits for letting the heat out of your home.
There is a very technical method for calculating heat loss, which takes into account components like the frame, glass, spaces and hinges of the door's design. Currently, building regulations state that residential doors should attain a u-value of be 1.8 or less, but in repeated tests, Solidor have achieved a u-value of 1.5, meaning that the heat generated for your home is going to stay in your home.
Choice of style and colours with Solidor
With 1400 different styles for you to select from, and 20 different colour options in both standard and premium finishes, there's bound to be an option which fits your vision of the perfect front door for your home.
Customise your choice further with an extensive range of door furniture. Letterboxes, electric locks, handles and traditional ironmongery can all be added to your composite door to give those final finishing touches.
Come and view our extensive Solidor Composite Door range

Ready to see the benefit that a Solidor could add to your property?
Give Panoramic Windows a call on 0800 37 33 37, or come and visit us at our Bristol Showroom, and speak to one of our friendly door experts about how you could benefit from Solidor's innovative technology.