Patio Doors Henleaze
When shopping for the dream patio doors for your Henleaze home, Panoramic offers one of the best products on the market.
Why Choose Panoramic for Your New Patio Doors?
As a business founded over 40 years ago, we here at Panoramic have been installing doors to the people of Henleaze and the surrounding areas for nearly half a century. With that, we firmly believe that we provide one of the best combinations of product and service available on the market today.
As installers we have been accredited by Assure for the standard of service we provide from quotation through to installation and beyond. This is one of the highest accreditations available for installers, and our customers can even receive a certificate of authentication to confirm our status as trusted and certified installers.
We understand that the whole home renovation process can be incredibly stressful, so we take pride in making it as hassle-free as possible when you come to Panoramic for your new patio doors.
At Panoramic we also appreciate that you want to get the best possible value for money when shopping for new patio doors for your Henleaze home. With that in mind, we only use the industry's most respected suppliers, to deliver the best possible quality product we can.
As a result, we can offer patio doors here at Panoramic which come with the Secured by Design (SBD) accreditation. This means the police have tested our products for their security and awarded them the highest possible honour.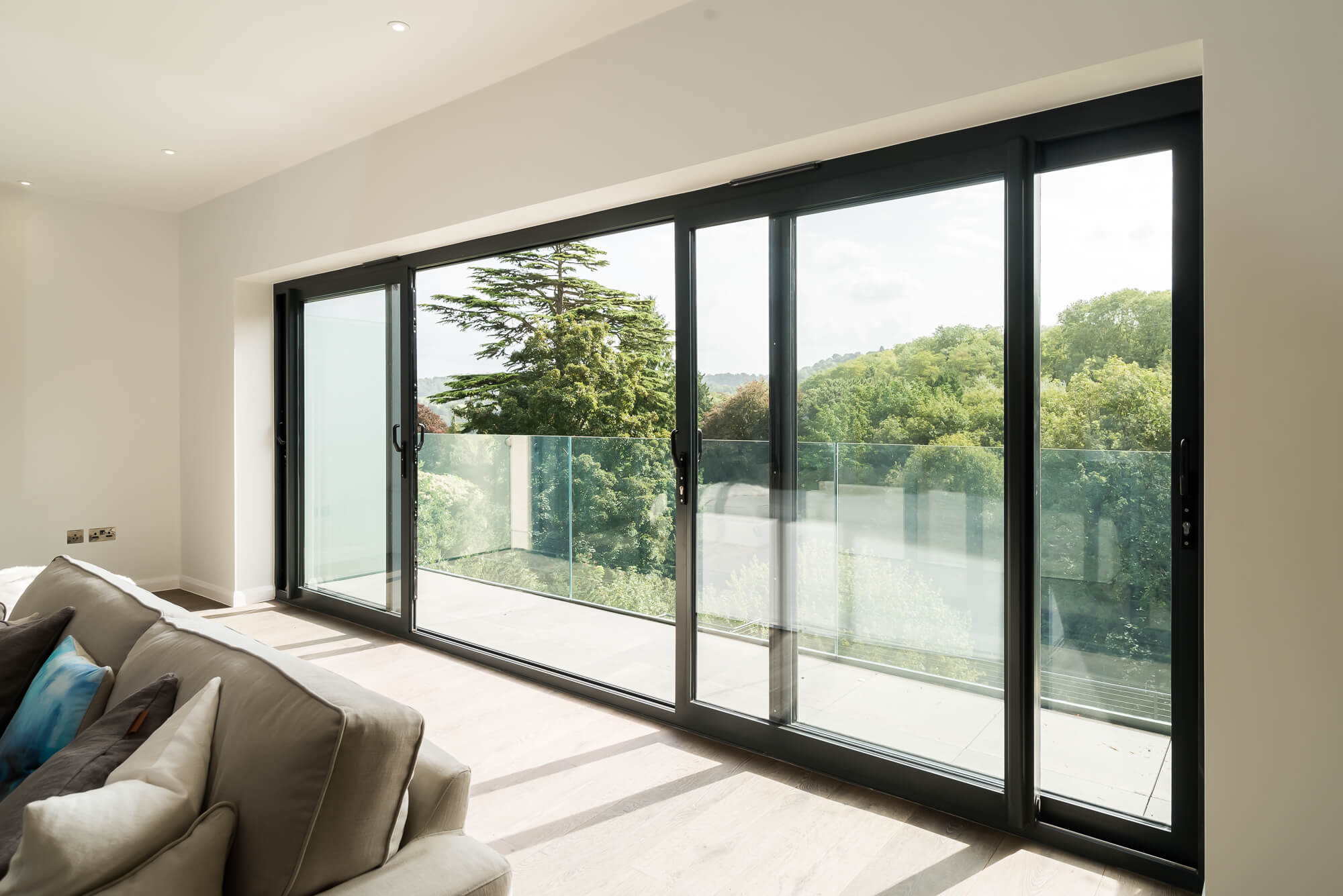 Our Patio Doors Range
Here at Panoramic, we offer a variety of different patio doors made from an array of different materials to suit different tastes and budgets. We use uPVC suppliers to provide us with a robust patio door that is available in a range of colours. They also come with a ten-year guarantee, promising that it's built to last.
If you prefer an aluminium frame, we work with both Reynaers and Smart to provide two stunning aluminium models for you in Henleaze. Both models come with all the standard perks of an aluminium patio door, including thermal efficiency and superior security features.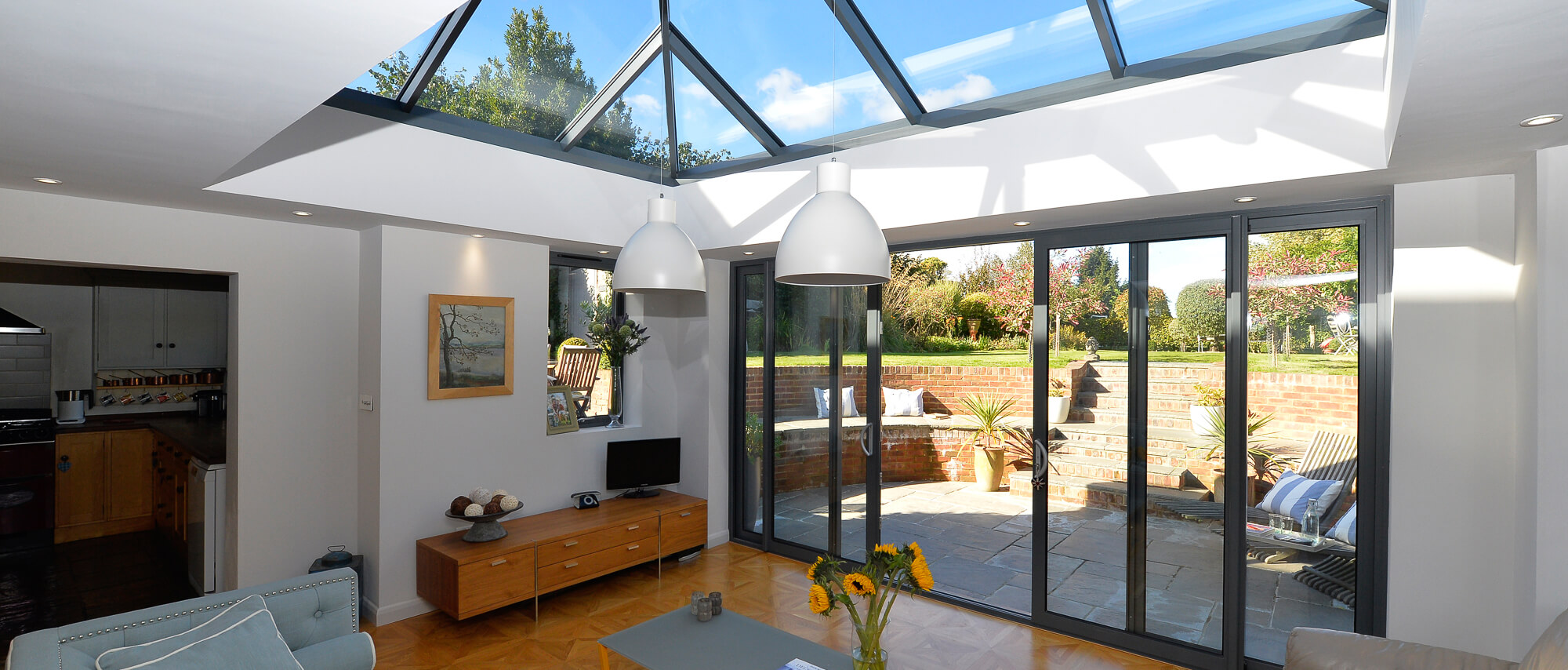 The Benefits of Investing in a Patio Door for Your Henleaze Home
Our stunning yet functional patio door range here at Panoramic naturally come with a host of benefits for you and your family.
Maximise minimal space
Unlike most modern doors which open inward, patio doors slide along to the left or right which as a result can transform the use of a room. With patio doors, you can decorate a room with more sizable furniture or make a smaller social space much more usable in your Henleaze home.
Unrivalled security
With their slim frame and large glass areas, it's easy to assume that patio doors would limit home security. However, ours come with their SBD accreditation and features including a unique six-point pincer action lock and Yale's anti-bump cylinder. As a result, you and your family can sleep easy knowing you're safe.
Excellent weatherproofing
The last thing you want when investing in home improvements is to have concerns over the standard of weatherproofing you'll get. With Panoramic, you'll get a patio door which has been tried and tested against extreme winds and rain. They will also protect your Henleaze home from mould and damp.
Practical for their price
If you're shopping for home renovations on a budget, a set of patio doors can be a smart investment for their cost. By maximising limited space and allowing plenty of natural light to enter the room, they can brighten up any social space and make it visually stunning without much outlay.
Energy efficient
With a combination of our accredited double glazing and tight and secure seals, our patio doors here at Panoramic offer brilliant energy efficiency. This means they not only keep out extreme weather but also the cold as well. The warmth will stay inside your Henleaze home and, as a result, you could save money on your energy bills.
Experienced, reliable installers
Having a great product is one thing, but you also want to be satisfied with the service your installer provides. As we're able to boast over 40 years of experience in this industry, we're able to make sure that our installers are trained to our high standards and as a result, you'll receive a service you're happy to shout about.
Patio Doors Prices Henleaze
Want to get started costing up your new patio doors for your Henleaze home? Use our online price generator to get a free quote, or you can call us on 01179 560321 to get the ball rolling!