French Doors
Adding a Graceful and Sleek Solution to Your Bristol Home
At Panoramic we know that every home and every space is different, and that each customer and every property will need a personal and unique approach when it comes to their home improvement project.
Our mission is to provide a range of choice to our customers. Our range of French doors is available in a variety of options, such as double glazed French doors by Deceuninck and timber alternatives by Altus. Each of these has its own benefits and advantages, and will be professionally installed to our Kitemark certified standards.
French doors are a classic option for creating access and exit points to an outdoor space for a variety of types of property in Bristol. They are an affordable and practical solution, offering a graceful and sleek aesthetic to your home.
A Range of Colours and Designs
Our French doors benefit from slim sightlines and are available in a range of colours and finishes to meet your requirements and match your personal taste. They are extremely customisable with a range of hardware options to choose from to select specific handles and other accessories to create the perfect finish.
Timber French doors are visually stunning with a traditional feel. They utilise the same innovative design features as our residential wooden doors, benefiting from 58mm Door Sashes (as opposed to standard 44mm) and incorporates 24mm double glazed units or solid timber panels allowing for improved locking systems, drainage and stability. The doors can be painted in a range of colours or finished in a variety of wood stains.
Combining Design and Functionality
Our French doors aren't just an aesthetic feature, they provide excellent functionality to your home and can help increase the value of your property. They are a wonderful addition to any home and can attract a potential buyer.
They are a durable option that can please the most safety conscious homeowner, with a high security locking system inbuilt into the frame. A common misconception about French doors is that they are not as robust or secure as other door types however this is completely incorrect.
French doors incorporate the same security as other door types and excel at keeping your Bristol home safe and protected. You can increase the security level with toughened or laminated glazing as well and configure how you'd like your French doors to open and close.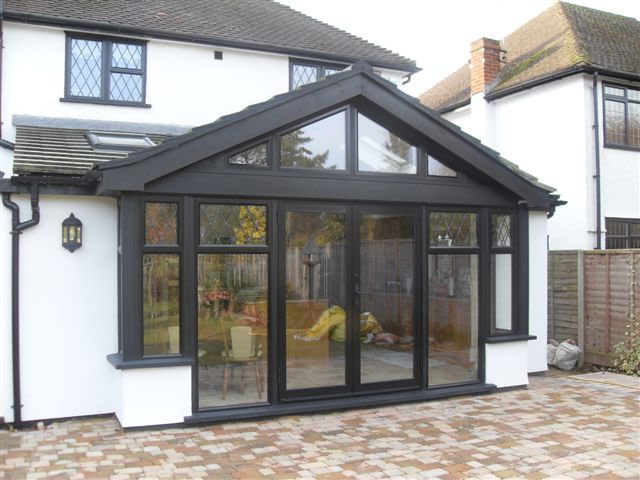 Make your Home Thermally Efficient
Installing our French doors into your home will greatly reduce your heating and energy bills. This is simply achieved by excellent seals inbuilt into the profile that trap warm air and prevent it from escaping. You'll find your home is warmer for longer which reduces your reliance on the central heating. This in turn reduces your carbon footprint which is excellent for the homeowner that is keen to contribute to a greener environment.
French Doors Bring Quality and High Standards to Your Home
All of our French door designs offer standards of security and quality manufacturing ensuring that you get the best value for your money and a product that will endure the test of time. Our doors have been tested to withstand extreme weather conditions and attempted break-ins making them a selection that will give you and your family complete peace of mind.
Panoramic French Doors: Our Products
Crittall Steel French doors are based on the original art-deco style traditional steel doors. Their classic lines and maximised glass area mean they are perfect for those looking for a minimalist or contemporary look. Available in a wide range of colours they also feature a 16mm Krypton filled sealed unit to maximise thermal efficiency.
Our timber French doors by Altus are a great choice for Bristol homes as they are flexible in design and have hinges that allow them to open to virtually 180 degrees or flat against the walls either side. They maximise the amount of sunlight that enters the home adding an illusion of more space and warmth.
Our slimline aluminium French doors are perfectly suited for period properties or listed buildings as they offer ultra slim sightlines as well as outstanding thermal performance. They are perfect for properties in conservation areas that need to retain the original style of the doors that already exist.
You could opt for uPVC French doors, manufactured for Deceuninck, renowned for creating durable and robust uPVC products that stand the test of time. Simple to maintain and aesthetically pleasing, they make an excellent addition to a Bristol home.
Our Trusted Partners
Smart Systems
Choose our French Doors made by Smart Systems to access double glazing that boasts fine frames and a minimal amount of glass. This design of door will create a stronger link between your garden and your home. In terms of access, our French doors provide thresholds that will allow any visitor access to your home.
Deceuninck Doors
Enjoy the timeless look of uPVC French doors, which will reward you a better panorama of your garden. Why not add a splash of colour and a woodgrain foil to your new back doors to create a timber effect? Our weather resistant Deceuninck French doors are also long-lasting.
Altus Designs
French doors made by Altus are incredibly versatile, as evidenced by their ability to open as far as 180°. It's also possible to close them in such a way that they lie flat against your walls to give you even more space to use in your designated living area.
Other Options
We work with other partners too, which means we can install uPVC French doors:
That can open inward or outward, depending on your preference
In full-height glazing format and with or without solid panels
In a choice of aluminium or traditional timber
or a steel version in a metallic or gloss finish.
French Doors Prices, Bristol
You can call us on 01179 560321 or use our French door cost calculator to obtain a price. We cover Bristol and the surrounding areas and can book a home visit if you require one so that we can advise on the best solution for you.