Aluminium Bi-Fold Doors Bristol
Our aluminium bi-fold doors slide and fold away effortlessly, creating space to relax and enjoy the full beauty of your garden.
Panoramic supply and install stunning bi-folds throughout Bristol, Bath and the surrounding areas.
Aluminium bi-fold doors are a luxurious and versatile home improvement solution that rewards your home with ample benefits. Easy to open, simply folding away neatly to create a space that you can enjoy and relax in with an eye-catching and elegant design.
Incorporate your outdoor space with the interior of your home, making it feel like an inclusive space with an open plan feel. Enjoy easy access to and from your garden, patio or balcony whilst rewarding your home with increased natural sunlight. This all creates the illusion of a larger and more spacious room.
Functionality That is Prepared for Every Season
Panoramic aluminium bi-fold doors slide and fold away effortlessly, creating space to relax and enjoy the full beauty of your garden in the summer. In the meanwhile, in winter months, high quality seals and gaskets retain warmth in your home.
Aluminium truly is the material of the moment. It is strong, light, stable and it will not rust, warp or rot. From an environmental point of view, it has a lot of commendable qualities. It can be recycled over and over again, with no degradation or loss of properties.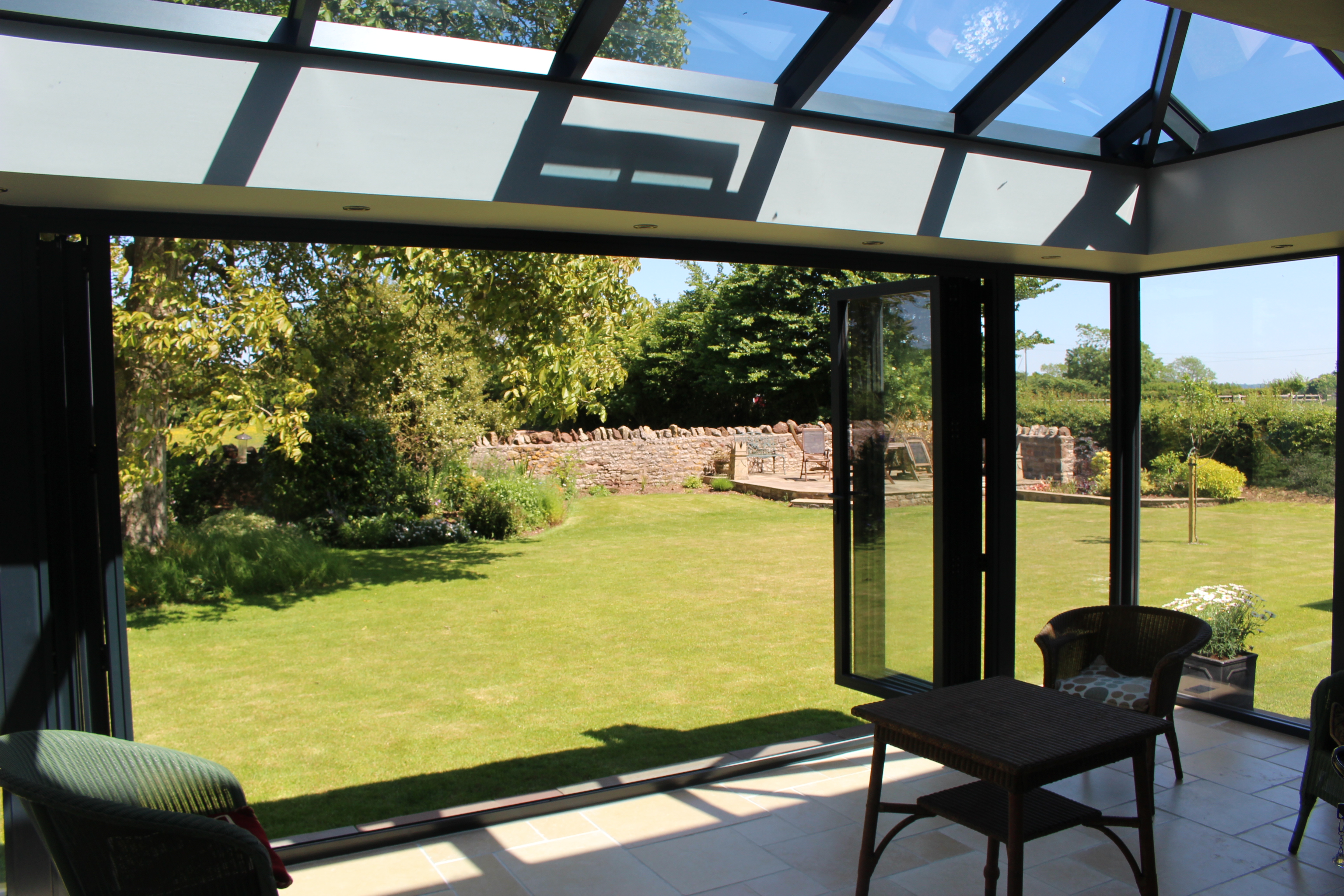 Practical Benefits with a Sense of Luxury
Aluminium bi-fold doors are a great addition to any property type whether you live in an older traditional home or a more contemporary property. They have a range of practical benefits whilst maintaining a sense of luxury and appeal.
Unlike traditional doors that require swing space, aluminium bi-fold doors concertina back on themselves in a tidy and compact way. This gives you the ability to open an entire wall by installing doors that stack effortlessly, maximising the amount of space you have available.
Never Compromise on Security Bi-Folding Doors Bristol
Our aluminium bi-fold doors feature a locking system that deters any potential intruders and offers high security protection for your family and your home. With a strong, resilient frame and robust glazing, you'll be glad you invested in our exceptionally high-performance products.
Due to the use of premium grade aluminium, our bi-fold doors are inherently strong but also incredibly flexible. This allows you to customise your purchase to fit the space that you require them to be installed and you can tailor them to your personal taste and style. Our Visofold range of doors are even PAS 24:2012 accredited for proof of their security.

Aluminium Bi-Fold Doors to Be Proud Of
Installing slimline aluminium bi-fold doors into your property brings with it maximised natural light and a sleek and modern finish. Aesthetically, your home will look light and airy as well as exquisitely contemporary. You'll soon find that your new bi-folding doors become a focal point in your home.
Our aluminium bi-fold doors come in a range of designs and styles that can blend seamlessly with your existing interior and exterior. Whether you choose to match the rest of your home and opt for a refined and understated colour or if you decide to pick a contrast colour to make more of a feature of them, your bi-fold doors will completely transform your property.
Bring Additional Benefits to Your Home
There is a reason why aluminium bi-fold doors are a highly sought-after home improvement solution in Bristol. Every customer who has opted to have them installed into their home are amazed at the difference they make to their home. Adding bi-fold doors opens up the possibilities for the use of the room, giving it a completely new lease of life.
A large benefit to installing aluminium bi-fold doors is the thermal efficiency they bring with them. Once installed you'll find that your reliance on the central heating decreases and your home will stay warmer for longer, reducing your energy bills and decreasing your carbon footprint. Other benefits include:
Dedicated bottom guide for consistent operation and increased security
High security hinges and locking mechanisms as standard
Double track threshold allowing greater stability
Available in a wide range of colours
Unique high strength roller design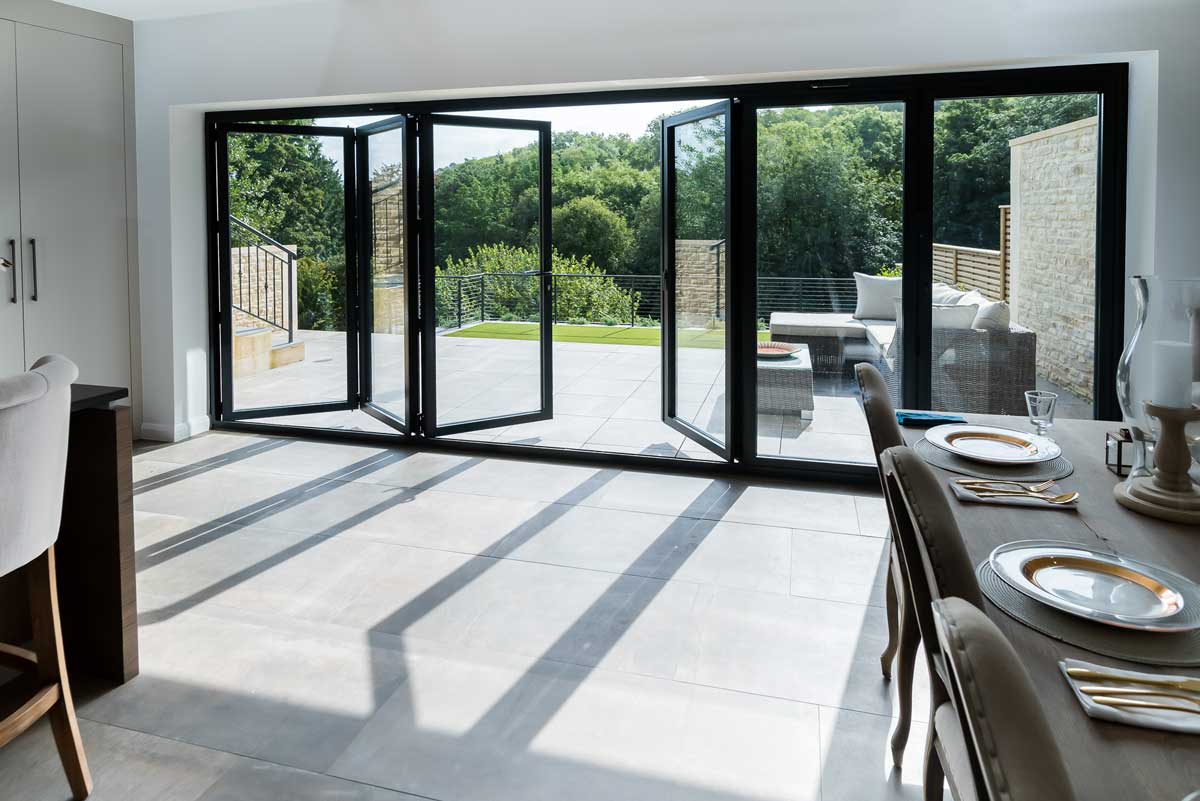 Features and Benefits of Bi-Folding Doors
Offering maximum security, marine-grade powder coating and a wealth of RAL colours to choose from, these doors can easily be customised to match the existing style of your property.
We also offer a number of hardware modifications, from arched and gothic heads to ornate door handles for a bespoke style. Our standard 28mm DG units also offer Energy Ratings of at least 'B', while our 36mm TG units can reach levels as high as 'A'. Finally, the naturally slim sight-lines allow you to capitalise on your stunning garden views.
Visifold Aluminium Bi-Folding Doors Bristol
We don't compromise on quality. That's why we've chosen Smart System's Visifold profile as our product of choice. This is a door that can be opened in a variety of configurations and which will open to almost threshold length, resulting in a wide aperture that provides superb views and ventilates your room space.
The technology used in our Visifold aluminium bi-fold doors includes a polyamide thermal break that will reward you with a low U-value. Improved threshold access comes as part-and-parcel of this style of double glazing, which means any visitor to your home will be able to enjoy seamless access.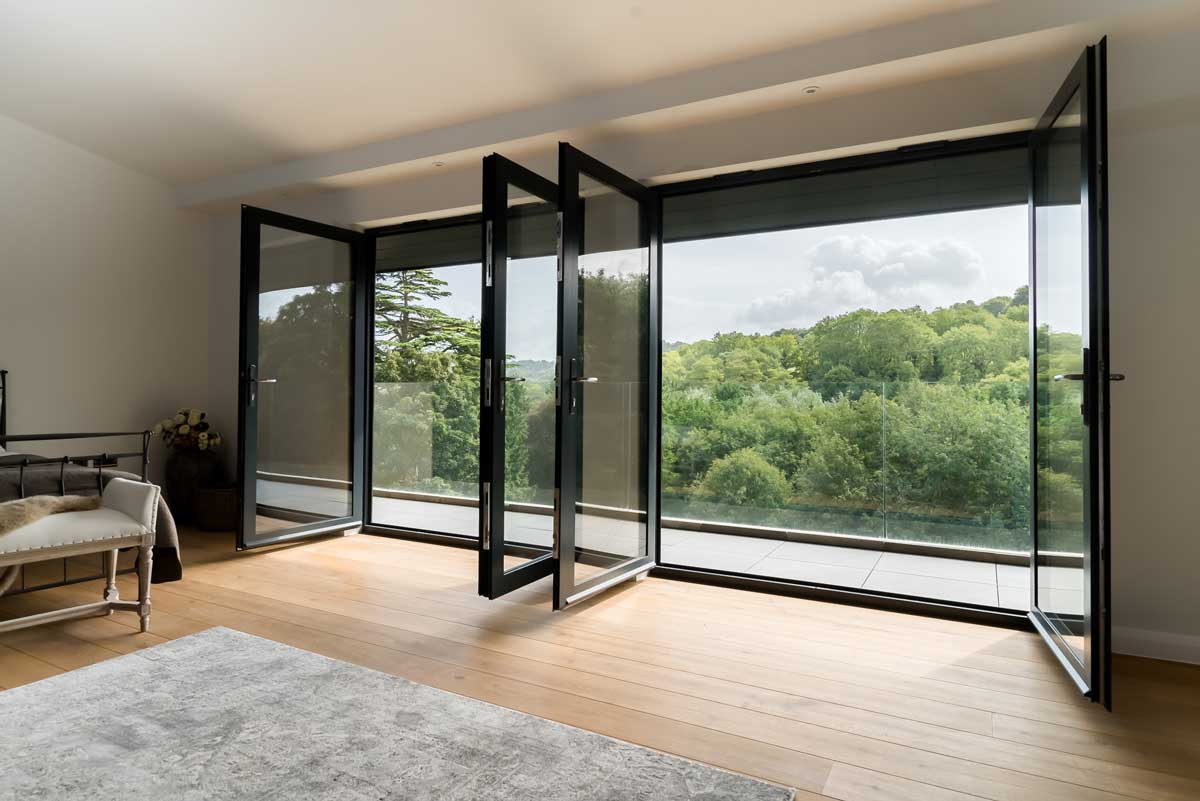 Aluminium Bi-Fold Doors Prices, Bristol
At Panoramic we have a knowledgeable team that can discuss our range of slimline aluminium bi-fold doors with you. You can give us a call on 01179 560 321 for assistance and use our bi-fold door cost calculator to generate a guideline aluminium bi-fold door quote. We cover Bristol and the surrounding areas too, so please let us know if you'd like to book an appointment with a member of the Panoramic team.
In the meantime, you can visit the Panoramic showroom at any time to view our slimline aluminium bi-folding doors. To discuss how we can enhance your home feel free to visit our showroom in Bristol or alternatively call and speak to one of our friendly bi-fold experts. We'd be more than happy to answer your questions!