How To Make Your Home More Energy Efficient
How do you make your home more energy efficient? As bills are on the rise, and we all try to help our planet, saving energy is crucial in today's homes. However, it can be tricky to make your home into an efficient one, especially if it's an older design. Outdated windows use inefficient glass and frames, while doors can also let energy escape from your home.
Because of this, your home might not only be inefficient, but it could be uncomfortable as well. Old windows can lose up to 10% of your home's energy, causing bills to skyrocket and temperatures to plummet. And, as those windows and doors get older, they could crack, fade or fail, leaving you even more out in the cold.
However, with Panoramic, you don't have to stay in an inefficient home. Instead, you can make your home more energy efficient with brand new designs that enhance your living space's style and performance. You could invest in new glazing with more panels to protect your home, new window designs with more efficient materials, and doors with more insulation to keep cold air out.
That way, you won't only improve your home's efficiency, but you'll do it for less. At Panoramic, you'll benefit from the prices and service of a trusted, local installer. As a result, you won't have to pay as much, and you could save even more money with your investment.
Double Glazing To Make Your Home Energy Efficient
The glazing in your home could be a reason why it isn't energy efficient. That's because, if they have only one pane of glass in their builds, old windows and doors don't offer your home a lot of thermal protection. When the temperature drops outside, it can pass through thin glass easily, through a process called heat transfer.
However, you could replace the glass in your windows with double glazing. Double glazing puts two layers of glass between you and the cold, giving you more protection and comfort. Additionally, it's less likely to break, suffer from condensation, or weaken over time. Because of this, you'll be able to make your home more energy efficient for years to come.
With new glass, though, you might not fix the issue with your windows. Older windows can use timber frames which, while sturdy, can begin to weaken over time. That's because wood isn't weatherproof, so wind and rain can damage the timber over the years, creating gaps for cold air to rush into your home through.
New Windows To Make Your Home More Energy Efficient
One way to change that is to invest in new windows entirely. Not only will you get double glazing as standard, but new windows offer a lot more besides. In addition to new glass, you'll be able to invest in durable frames for the window. Rather than use wood, modern windows use uPVC or aluminium in their design, which can make your home even more energy efficient.
Both of these materials are fully weatherproof, meaning they won't lose their shape in even the worst conditions. Also, they're versatile, meaning they can keep their performance in all shapes, and across a range of window styles. That means you could invest in unique window designs without any compromise.
Also, you can fully customise your new windows to suit your home here at Panoramic. That way, you can make your home more energy efficient with a window that suits your style, too. You can invest in bold colours or authentic woodgrain finishes for the frames that'll continue to shine for decades to come!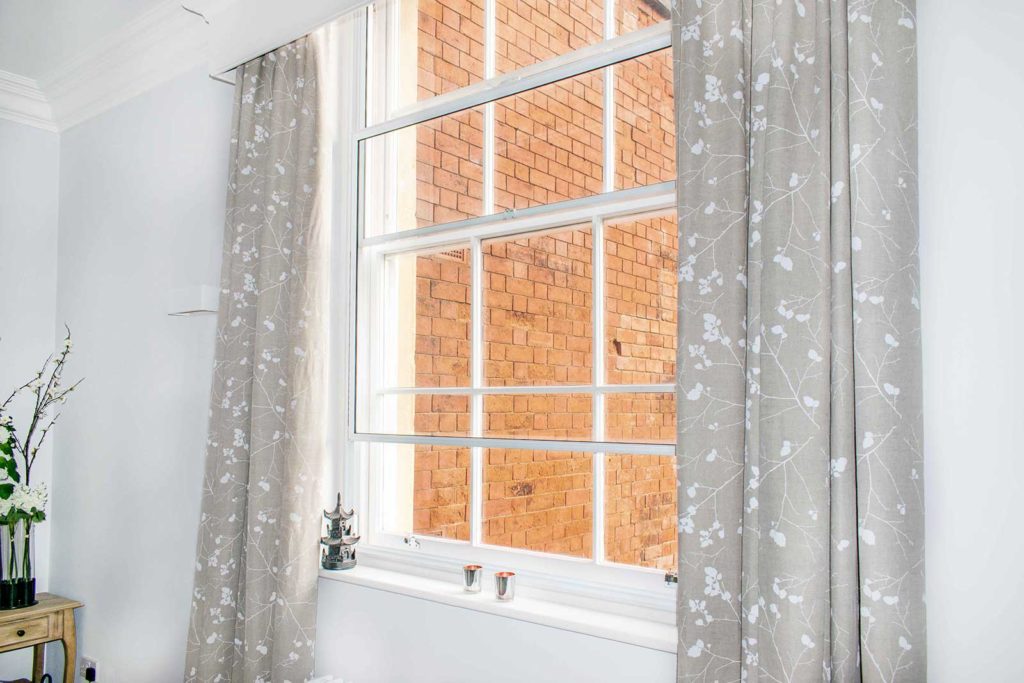 Secondary Glazing To Make Your Home More Energy Efficient
One downside of new windows, though, is that you have to replace your old ones. While they may not be energy efficient, they might have a classic design you'd rather not lose. However, there's a way to make your home more energy efficient without having to lose its classic charm. You could invest in secondary glazing, which is a new window for your old one.
The new window goes over the top of your old design and matches it made-to-measure. That way, the two windows act as one double glazing unit, with an air and water-tight design to protect any old glass and timber from harm. As a result, you keep an old design but blend it with modern performance to make your home more energy efficient.
Secondary glazing could provide even better performance than a brand-new window. That's because the gap between the two glass sections is larger than the one in a double glazing unit. Because of this, cold air has further to travel to affect your living space's temperature, meaning you can cut the cost of your energy bills even further.
New Doors To Make Your Home More Energy Efficient
While the windows around your home can lose a lot of energy, old doors have the same problem. Sometimes, older doors can let a lot more through than just you and your guests. Your front door could be showing signs of wear and tear, while back doors can also let cold air in from your garden.
When you make your home more energy efficient with Panoramic, though, you can invest in brand-new entrances right across your home. You could invest in composite front doors for the front of your home with a 48mm solid timber construction. These dense doors offer superb insulation that lasts for decades, helping you pay the cost of your investment back in savings!
Additionally, you can get doors for other areas of your home. If you want more access to your garden, for example, you could invest in Panoramic's patio and bi-fold doors! These designs operate on an in-line slider, saving space, and use full panels of double glazing. That way, they can let fresh air and natural light fill your home, whether open or closed!
Make Your Home More Energy Efficient with Panoramic
With Panoramic, you can make your home more energy efficient for less! Explore our range of new windows, secondary glazing and doors, and find the ideal design for you. And, if you haven't found the perfect one, customise it with our range of options to make it a reality.
You can use our online design tool in minutes to create the ideal windows and doors for you, and get a personalised quote for them instantly!
And, if you'd like to hear more about how Panoramic can make your home more energy efficient, fill in our online contact form to get in touch or give our friendly team a call on 01179 560 321 today!
Categories: Updates
Tags: energy efficiency, energy efficient home, how to make your home more energy efficient, make your home more energy efficient