The benefits of a Skyroom
If you've found yourself torn between the construction and installation of either a conservatory or an extension, the good news is that it's possible to combine the natural light afforded by an orangery or conservatory with the thermal efficiency of an extension, to create a multi-purpose room which can be used all year round.
Slim, sleek appearance with a Skyroom
A skyroom combines contemporary aesthetics with intelligent engineering, to create a unique addition to the home, which bridges the gap between a standard conservatory and a top-of-the-range orangery.
Skyrooms keep external sightlines as slim as possible, ensuring that the glass-panelled roof blends perfectly and unobtrusively with the existing structure of your home. Sky rooms can be uniquely designed to make efficient use of the space at your disposal – they are a contemporary and beautiful way to improve your property.
See more sky with a Skyroom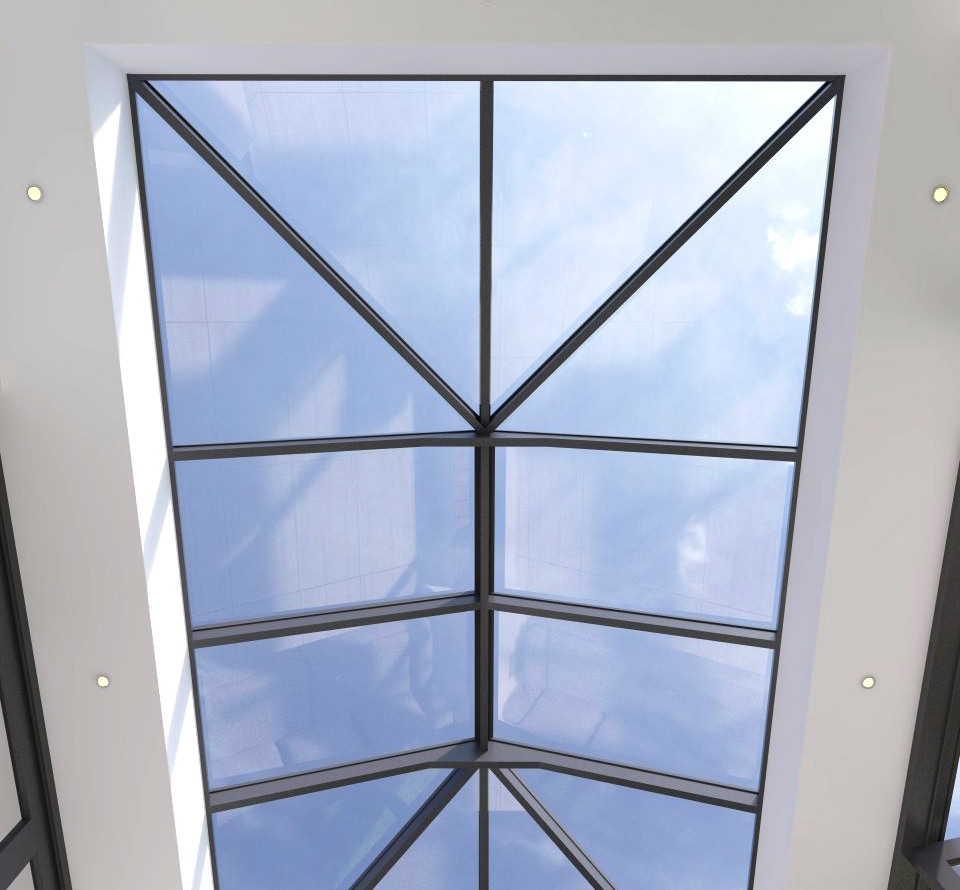 The real beauty of a Skyroom is that, unlike any other roof, it features no unattractive tie bars or supports cluttering the roof or blocking out light.
Instead, you can expect the appearance of a lantern roof set within a solid structure, allowing you to enjoy the sort of light usually reserved for conservatories.
Clever use of a raised ringbeam between the top of the roof and the internal pelmet creates the appearance of a real orangery without the clutter of a boss or hoods.
Skyrooms are an energy-efficient solution
Skyrooms offer class-leading thermal performance, and this means that they retain a comfortable temperature even during the winter months.
One of the biggest criticisms levelled at conservatories is that they can be cold, uninviting places after the clocks go back at the end of October – but with a Skyroom, you can expect comfort and warmth, whatever the weather. For added peace of mind, you could even install underfloor heating, too.
A wide choice of colour and glazing options for your Skyroom
When you invest in an aluminium Skyroom for your home, you can relax in the knowledge that there are various colour options available to you to meet your specific requirements. Whatever colour you choose for your Skyroom, you can expect a superior polyester powder-coated finish that will continue to look good for many years to come.
Glazing options include high specification double glazing with safety glass or even sophisticated triple glazed units.
At a glance: the benefits of a Skyroom
Still unsure about whether a Skyroom is the right choice for your property? Why not take a moment to consider the following information?
A Skyroom is a great investment that can only enhance the value of your home
Skyrooms make use of minimalist design and slim, sharp sightlines, effectively modernising your property
No structural steel or timber beams are needed
Solar control film hides internal pelmets, and tie / box-tie bars are also hidden
Bevelled or flat exterior caps are available, dependent on preference
Slimline aluminium roofing sections are powder-coated to the colour of your preference
Interested to know more about how a Skyroom can enhance your home?
Want to find out more about how a Skyroom could transform your existing property?
Simply browse Panoramic Windows Skyrooms for more detailed information or come and visit us at our Bristol Showroom.
Categories: Updates