Posted on: October 31, 2023
Why Should You Invest In A Bifold Door This Winter
Introduction
At Panoramic, we offer a wide range of bifold doors this winter. You would think that these doors are associated with the summer months as their concertina shape lets plenty of fresh air in. However, you might be wondering why these doors are suitable during winter. Read on to find out how a bifold door will enhance your property this winter and get in touch with Panoramic. Our friendly team has over 40 years of experience and we will be on hand to help you.
High Energy Efficiency Levels
During the winter months, temperatures will drop, resulting in higher energy bills. This is where bifold doors come in. They are equipped with robust double glazing which results in outstanding heat retention. Double glazing reflects natural heat back into your home, so it can't escape. This will suit the winter months because warm air will stay in the room for longer, ensuring it is comfortable and toasty.
Our bifold doors are ideal because you will benefit from an exceptional amount of natural light on your property. When the warm winter sun combines with the crisp winter weather, you will take advantage of a beautiful winter centrepiece. It will also give you an opportunity to control the light, saving on your energy bills. What's more, you will ensure the central heating won't have to work as hard, as the door will enhance natural warmth.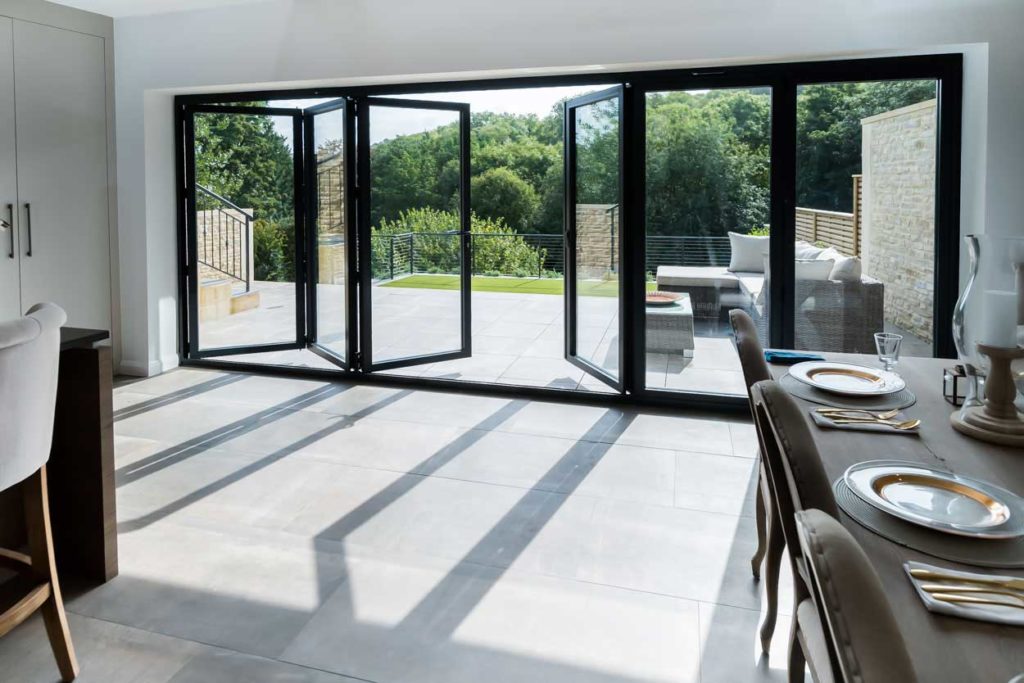 Bifold Doors Create an Illusion of a Larger Space
Choosing a bifold door will ensure you will benefit from potential festive parties. A bifold door can help enhance this as it makes the space feel light and airy. What's more, the bifold door isn't a wall, meaning it can maximise external space and make it larger over time. As a result, the space won't seem overcrowded, resulting in a warmer home in the long run. This is partly why a conservatory is warmer in the winter.
As a result, using the bifold door as a facial point for get togethers will ensure you will be able to maximise its potential for social events. What's more, conservatories support bifold doors, ensuring a design that uses plenty of natural light.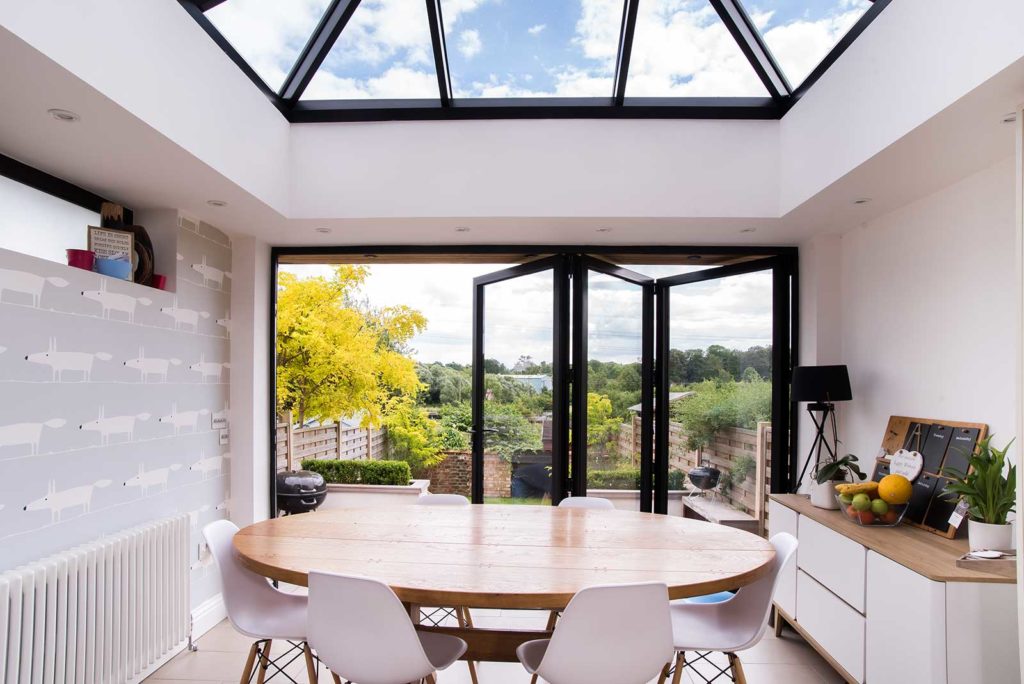 Bifold Doors Offer Fantastic Amounts of Natural Light
In addition to keeping your home warm, your bifold door will also let the light into your property. Bifold doors are tall, which enables you to benefit from maximum light penetration. This will boost your home's aesthetics and make your property brighter over time.
Natural light is an ideal source of positivity for your home because it gives you more vitamin D, boosting your mental health and wellbeing. With Seasonal Affective Disorder being prevalent in winter, alongside the clocks going back, a brighter home will combat the feeling of the winter blue.
A Bifold Door Gives You Flexible Opening Options
When you choose a bifold door, you will benefit from a multitude of flexible opening options. This allows you to open it slightly if your home gets too warm, giving space to control the ventilation.
When your windows are closed, this makes your home become stuffy with a lack of air. The flexible opening options ensure you will get a design that helps you regulate the temperature without having to use central heating.
Blinds on Your Bifold Doors Help Keep the Heat In
Another way you can retain heat in your home is to install blinds on your bifold doors. This thick accessory absorbs heat in the sun's rays and keeps cold out. As a result, you will save money on your energy bills over time. Combined with the extra double glazing, you will get a strong centrepiece.
In addition, curtains are an easy way to control how much light enters your home, as they are easy to draw. This creates the ideal centrepiece, resulting in the ideal setting for your home. And homeowners can experience a comfortable property without worrying about the central heating.
Conclusion
We hope this article has helped you understand why bifold doors are warmer in the winter. With many reasons including exceptional thermal efficiency, more space, and natural light, your bifold doors are an ideal choice if you want to keep your home warm.
At Panoramic, we offer a range of bifold doors that enhance your home. If you want to find out more, get in touch with our friendly team today. Fill out our online contact form or give us a call at 0117 9560 321. We have many years of experience installing these doors, so we will be on hand to help you.
Fill out our online quoting engine which helps compliment the look and feel of your home. It only takes seconds, and we will return with a bespoke quote that matches your needs.
Categories: Updates
Tags: bifold doors, how to maintain bifold doors this winter