Replacement Conservatory Roofs
The Guardian Warm Roof System is a revolutionary step forward in Home Improvement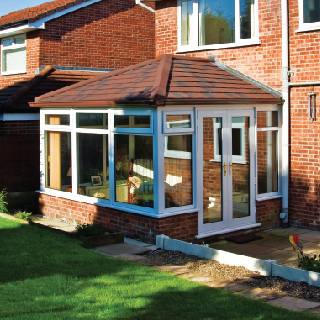 With planning consent, internal dividing doors or walls can be removed to provide a permanent extension to your living room, kitchen, etc. WITH A GUARDIAN WARM ROOF CONVERSION SYSTEM:
• High performance insulated warm roof conversion system
• Lightweight aluminium frame
• Provides energy cost savings
• Reduces rain noise and glare
IS YOUR EXISTING CONSERVATORY:
• Too hot in summer?
• Too cold in winter?
• Waste of valuable living space?
• Unable to relax to watch TV?
then a replacement conservatory roof could be the answer.
Transform your conservatory into a comfortable, all year round living space
Fully guaranteed
Reduced fuel bills for the life of the roof
Thermal, structural and condensation risk tested
A wide range of conservatory roof colours and finishes available
Comfortable ambient temperature all year round
Achieves a U-value of 0.18 (England & Wales) and 0.15 (Scotland)
Fast installation utilising existing conservatory walls, windows and doors
If you are considering having a replacement conservatory roof, contact us or visit our Bristol Showroom to discuss further.