Double Glazed Window Styles
We offer a wide range of window styles that can be enhanced with double glazing to enhance your property. With Panoramic Windows, you will enjoy durability, security, and performance. For over 40 years, we have built a reputation for quality double glazing products and services. But why pick double glazing? What makes it so special and why should my windows have it? Here we will discuss the invaluable benefits of double glazing and how they benefit our many styles of windows, all of which perform immensely from such glazing, giving you and your property a better home life.
Utilising two layers of glass (hence the term 'double glazing') a window can minimise the amount of heat lost as it transfers from your interior to the outside. Typically with single glazed windows heat loss is a much more common issue whilst also letting the cold air from the outside enter your home, making your living space chilly and uncomfortable. This is even more of an issue with the colder seasons. Double glazing prevents such problems with its ability to better trap and retain the heat inside your house. This means that heat will have a much harder time escaping your interior, keeping your interior warm and cosy, and by extension you and your loved ones. Double glazing is also considered a worthwhile investment since its trapping and retention of your home's heat, you will be less pressed to switch on the central heating, meaning you get to save money on the energy bill whilst still being able to enjoy a warm interior.
A double glazed window is also able to transmit much less noise, a highly beneficial feature for those who live near busy traffic or perhaps in a noisy neighbourhood, you can enjoy a quest serenity with these glazing options.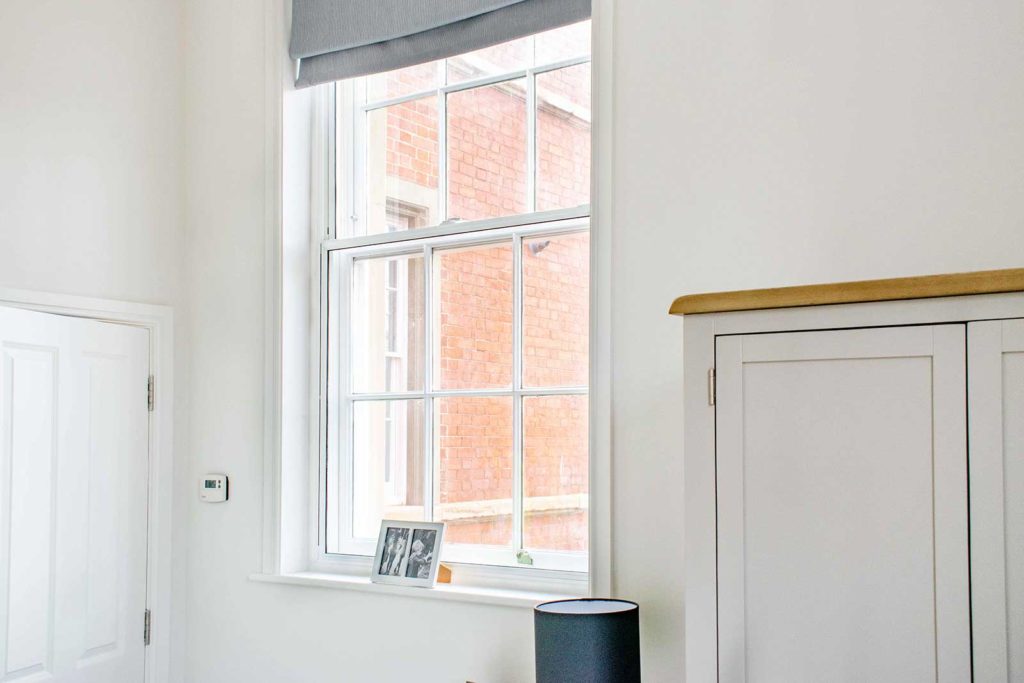 Double glazing is easily appliable to a number of window styles, such as our Aluminium, uPVC, Wooden, Steel, Casement, Sash, Flush Casement, Slimline Aluminium, Timber Alternative, Origin Aluminium and Rationel selection of windows. This means, that no matter the style of window you go for, you can also benefit from the incredibly invaluable benefits of double glazing.
Double glazing is especially useful for those looking to improve their home security. The fear of forced entry attempts can be a major concern for homeowners, and you deserve you feel safe and secure in your own property. That is why we recommend double glazed windows. A durable frame and durable glass make things difficult for would-be home intruders. Our uPVC profiles utilise stainless steel multi-point locking mechanisms and optimal stainless steel reinforcements, you can be sure of the safety of your home in Panoramic. Featuring high-security MACO rejected locks and SAC handles, our uPVC windows are guaranteed to be inherently strong and robust. This combined with the resiliency of double glazing makes your window an incredibly secure barrier between you and any potential threat to your property.
As one of the leading suppliers of double glazing, we also offer ultimate flexibility with our steel windows. Enjoy style and performance together with steel window as they boast minimalistic sightlines that allow for an amazing view of your back garden or even a wide glance of your neighbourhood, whilst resting assured that the weather will not impede the style or performance of your double glazed steel window. Despite its narrow profile, it is weatherproof against the harsh outdoors, meaning you will not have to worry about your double glazed window warping, rotting or the need for continuous upkeep and maintenance. Our double glazed windows are low maintenance, giving you peace of mind and less to worry about, only having to do the occasional wipe down with a cloth.
We also take it a step further. We offer a double glazing alternative called secondary glazing. With similar features to double glazing, secondary glazing is an amazing option for those restricted by regulations on Listed Buildings or Conservation Areas, secondary glazing might be the right option for your home. Enjoy the benefits of a double glazed door without the price tag. Secondary glazing is able to reduce up to 80% of noise pollution, keeping the interior quiet and giving your living space the tranquillity it deserves. Much like double glazing, secondary glazing offers an extra layer of security by making windows more durable and resilient, giving you that added assuredness that you and your loved ones rest easy knowing that your home security just got that little better.
Double glazing (and secondary glazing) combined with multiple window styles gives you a choice on how you want to stylise your home without having to lose out on some very necessary and modern benefits that will increase the quality of life at home.
Categories: Updates