The benefits of buying a Solidor composite door from Panoramic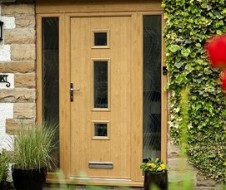 Looking for a brand new, modern front door to replace your tatty and weather-beaten one?
Buying a Solidor composite door from Panoramic could be one of the best decisions you make when it comes to door replacement.
The clue really is in the name - Solidor
Solidor composite doors are the leaders in the field, featuring market-leading security, full weatherproofing, fire resistance, excellent thermal insulation, and scratch-resistant and wipe-clean surfaces.
Generally speaking, this means they are very low maintenance, while giving you peace of mind that they will keep your secure, home warm and dry when the weather is a little more temperamental.
Solidor composite doors feature Avantis and Ultion locks, the strongest, most reliable and most secure in the industry, giving you further peace of mind whenever you are out of the house.
The materials and insulating properties of a Solidor composite front door means they are more energy efficient than competitors, allowing you to save money on gas bills and lower your carbon footprint. This is primarily down to their unique solid timber core construction and the fact that they are about 10% thicker than their nearest competitors, demonstrating that they are built with real care.
Taking their environmentally qualities even further, every composite door is manufactured using fully recycled door frame reinforcing, so you can be rest assured you are investing in an ethically-produced and quality residential door.
Choose Panoramic for your Solidor composite door
In addition to the obvious practical qualities of the Solidor composite door, there is certainly a case to be made for their aesthetic qualities. The door is a real classic design, offering understated beauty suitable for almost any style or period of property.
With 14 different styles available in 18 different colours, which can be different on either side if desired, leaving you with 256 door colour combinations to choose from , there is certainly a Solidor to suit your needs.
If all of this sounds perfect to you, make sure you place your order with Panoramic.
We offer a 12 year guarantee on our Solidor composite doors and, with over 40 years of experience in the industry, are a reliable and trusted retailer, with the BSI Kitemark for Window and Door Installation.
Indeed, our friendly team are all highly experienced and knowledgeable and are more than happy to help you decide which is the best door for your property.
At a glance – the benefits of buying a Solidor composite door from Panoramic -
12 year guarantee
40 years of experience
14 different styles and 18 different colours
experienced and knowledgeable Panoramic staff
many doors on display in our Bristol Showroom that can be viewed
low maintenance
full weatherproofing
wipe-clean surfaces with excellent scratch resistance
fire resistance
excellent thermal insulation and energy efficiency
exclusive high security hardware
View the extensive Panoramic Solidor Composite Door range at our Bristol Showroom
To get a real idea of what our range of back doors and front doors can do for your home, visit our large Bristol showroom.
Here, you will get a real sense of the quality of our composite doors and will be able to have a chat with one of our knowledgeable team. Don't hesitate – get in touch today!